Payment orchestration for airlines, enabling a multi-vendor strategy that pays off
"Don't put all your eggs in one basket". The first use in print of this saying has been traced to the novel "Don Quixote" by Miguel de Cervantes in the early 1600's. In today's world, Payment Orchestration Providers ("POP's") are more and more stepping in to enable this "multi basket" solution for Airlines. Their business model is focussed on providing an outsourced, multi channel, PSP/Acquirer agnostic layer that helps (a.o.) to reduce time to market, to improve business continuity and to create commercial leverage. This "Payment Hub" typically comes with a rules engine, dynamic routing capabilities, connections to multiple global and regional gateways, acquirers and products. As icing on the cake tokenization across providers is added to complete the solution.
In this article I'll introduce the concept of Payment Orchestration for Airlines which will also be a topic for my presentations and panel sessions during a range of industry events in 2020.
But first a bit of history
When online payments started taking off in the early 2000's, merchants first looked at their banks to help them out. As these banks were vast asleep, young tech companies stepped in to provide online payment gateway services like connections to acquirers, hosted payment pages, real-time authorizations and basic fraud screening, creating the first generation of payment gateways. These providers started to add basic routing capabilities (to enable the use of multiple acquirers) and support for alternative / local forms of payment, 3D secure and more sophisticated fraud management solutions later during that decade. With ecommerce maturing, becoming omni channel and large merchants more and more going global, the payment related requirements started to exceed what a single provider could offer to a growing portfolio of diverse merchants. With banks finally waking up and Travel Distribution providers entering the payment chain by offering their own payment services, traditional payment gateways became at risk of getting squeezed. Some have become acquirers themselves, others have become Orchestration Providers in order to stay relevant and grow their business.
Pain Points
Running a payment operation for an Airline is like juggling with (too) many balls, you'll have a long list of objectives to cover; business continuity, costs, risk, conversion, time to market, user experience, cashflow, customer service, (data) security and compliance, to mention "a few". Multiply this with the number of channels and many potential pain points will arise. To streamline payment processes and to improve end to end controls, an orchestration layer can help to fight pain points like lack of flexibility, long time to market, geographical coverage, high costs and low conversion rates.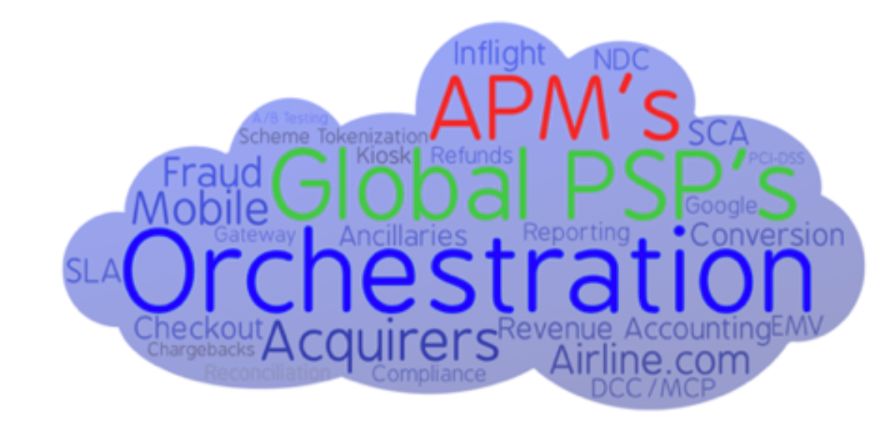 Buy or build?
Once the stakeholders on the Airline side have come to the conclusion that the current payment architecture is not future proof, a typical first question to ask is "will we buy or build"? Given the specific and knowledge intensive nature of Airline payment solutions (think e.g. processes, technology, security, compliance, regulations, best practices and redundancy), building your own solution from scratch and then further developing and maintaining it based on just the in-house volumes, seems in most cases not feasible / commercially viable. Outsourcing to a "best of breed" orchestration provider therefore becomes an option to consider.
Radu Iliescu, Director, Consulting Services at Branchspace: "Airlines are rarely set up like a tech company and, even those that are capable of successfully building an in-house solution as a one-off initiative (often leveraging external development partners), in the longer term they tend to struggle to maintain its flexibility and competitiveness compared to specialised, continuously evolving vendor platforms. A modular payment architecture based on off-the-shelf, best-of-breed components makes sense as a starting point for most airlines, although other sourcing strategies may also be relevant depending on an airline's payment transactions volume and value, the level of in-house knowledge and technical expertise they have, their specific functional needs, level of ambition, appetite for risk and many other factors."
Vendor selection
Once the decision is made to outsource, there are multiple flavors of vendors to choose from:
Agnostic Payment Orchestration Providers, covering multiple global PSP's

Global PSP's with a full stack offering (a full suite of payment solutions based on their own acquiring)

Global gateways, offering (only) technical integrations to a wide range of acquirers and products

IT / PSS providers to the Travel industry with their own payment gateway and/or orchestration layer
There's no "one size, fits all", the best match depends on the Airline's functional requirements, any existing relationships with vendors in the value chain and products / services available of the shelf. Do keep commercial leverage in mind though, being dependent on a single PSP and/or acquirer reduces your leverage when discussing volumes, terms and conditions (e.g. pricing and deposit amount).
When selecting a vendor, Airline expertise will be required to benefit from industry, channel and process knowledge, to be able to apply best practices, to avoid pitfalls, to receive pro-active industry specific support and guidance (e.g. on regulations). Experience with other sectors like retail market places would however provide access to relevant non airline use cases.
Selection of a sustainable solution means that today's and tomorrow's channels and touchpoints will need to be covered by the vendor, both digital and legacy, direct and indirect; web, mobile, call centre, airport, inflight, BSP/ARC, NDC/One Order, API's, packaging and groups. An other part of the scoring matrix will be supported functionalities; API's, business rules management, hosted payment pages / fields, routing capabilities, supplier connections, 3D/SCA, fraud management, authorization, tokenization, DCC/MCP, settlement handling, reporting, BI, reconciliation, posting and chargeback handling.
Harmonization
An important feature of orchestration is harmonization, both at the front-end and back end, a single API and bundled reporting. This is key when trying to shorten the time to market for adding new acquirers and APM's (Alternative Payment Methods). It is the role of the POP to absorb the differences in formats and to acts a modem including e.g. converting batch files to API's and synchronization of flows. Orchestration middleware can also be used for load balancing, spreading transactions over multiple providers / acquirers to honor volume commitments, risk related volume caps and to anticipate on tiered pricing.
Mathieu Tahon, Travel Technology Consultant at Noath Consulting: "PCI-DSS compliance used to be a difficult trade-off between security, customer experience and agility. With a tokenization solution integrated with the POP, one can keep its PCI scope to a minimum while still being agnostic of PSPs. Tokenization can even be turned into business benefits when leveraging the latest EMVco standards!"
Helicopter view
Redesigning an Airline's (or Airline group's) payment architecture with the help of a POP enables you to create a single view across channels, touchpoints, PSP's, acquirers and payment products. Dashboards in combination with simulations and A/B testing will enable an Airline to determine and fine-tune the routing of transactions, to improve conversion, lower costs and optimize the user experience during the checkout.
The year 2020 will kick off a new phase for airline payments, with a mature online channel, legacy distribution going digital (NDC) and IATA's Newgen ISS roll out nearly completed, this is the time for an Airline to change its payment organization to cover all channels / touchpoints and to implement a payment hub to prepare for the exciting times ahead.
Feel free to contact me at paul@upinheair.aero for more information on the payment orchestration provider landscape and how to organize a project to select and implement a sustainable and future proof solution.